…
My anxiety around anger creates worst-case scenarios in my mind.
Anxiety around Anger
It's very difficult for me not to be afraid of other people's anger. I look at other people and how they react when in the presence of somebody else who's angry and I notice that they are completely relaxed.
It always boggled my mind too. How could they not be afraid? Don't they know that they're inches away from being severely wounded or even killed? That the angry guy is also inches away from losing control and grabbing whatever blunt instrument is beside him and striking as hard as he can?
Of course though, after the altercation is over nothing really comes of it. And instead of my mind saying to me, "See! See you silly nut! Everything's okay. Nothing bad happened so you're getting all worked up for nothing as usual. I hope after seeing this incident, that you'll begin to change the way you react to anger, because it's about time."
It instead says, "That guy was lucky nothing happened. It could have been much worse. Both parties have no idea how close they were to something catastrophic happening. This is just pure chance and next time they might not be so lucky."
That's what my mind says to me. It implies that people getting angry at each other, and even yelling, generally results in some kind of violence most of the time. And that the exception to the rule is them both walking away with nothing more than the discomfort of being worked up for a while.
So my default outcome whenever anger is involved is usually violence, despite lots of evidence to the contrary that my rational mind sees each and every day.
This is the work of my anxiety which is supposed to be there to protect me by warning me of potential threats. In my case though, my warning system needs to be dialed back quite a bit as it's out of sync with what's happening in the real world.
It's easy for me to see this disparity in other people, but harder in myself. I see this a lot whenever there's an election and each side thinks that if the other politician wins that the world will end. The fact that the 'other' politician may have some bad and even destructive policies only cements the end-of-world belief even more in their minds. I can see that other people's anxieties are taking over their rational brain and I wonder how they can't see it in themselves.
If I look at my version of this then I can answer my own question. When it happens to me, it feels very very real because my emotional brain takes over and no amount of logic can change that. Think of somebody who's afraid of elevators and you'll see what I mean. That person goes to work and sees everybody else take the elevator without even batting an eye, but instead of asking why he can't be more like them (especially with all that evidence in his face every day), he likely thinks that they are all nuts, and that he's the sane one.
His emotional brain is in full control and he can't see that an elevator ride is perfectly safe. He also can't see that he's the one that has a problem and likely thinks that everybody else is either unaware of the dangers of elevators, or are simply crazy risk-taking people.
Like him, I also think that people who are not afraid of any sort of violence coming out of anger are either absolutely insane – like those Russian kids on YouTube who take crazy chances by climbing tall towers without any safety harness – or are simply aloof and maybe even a little bit dumb.
And even as I think this out loud and know how ridiculous I sound, I still believe it because the stimulus feels so threatening.
Yet I also know that I am the one with the problem and the one who needs to change.
Prey Responses
My fear of violence coming out of anger is generally below my level of awareness but I know that it's 'on' 24/7.
For example I'm anxious about getting into arguments with any of my neighbors. If we fight over someone making too much noise, or someone encroaching into the other person's space or anything else you can think of that neighbors fight over, AND it gets a little heated (especially on their end) then I fear that they are going to be so upset as to lose control of any sanity they had to begin with, go back into their garage and come back with an axe. Now that I think about it, when I was younger one neighbor did threaten to get a baseball bat when I was sitting on the curb not far from his house – which he didn't like me doing – but even then I could tell that he was just anxious and never really was gonna go get the bat and strike me with it.
It did feel like he would though.
Another time I was at the gym and I turned my back on everybody to get a drink of water from the fountain. Just then I heard someone walk behind, and by me yelling, "What the hell you doing!?" my lizard brain made me jump a bit as if he was coming to get me holding a 50 pound gym weight in his hand, ready to hit me over the head. I turned and saw that he was talking to someone on the phone and after listening in a bit more it sounded like his conversation was a misunderstanding of some sort with the other person. He wasn't a threat at all but my mind turned it into a real possibility.
Once again every fiber of my being felt like my life was in danger.
Loud noises. This happens quite often actually. I was at the park one time with my young kids just enjoying the day with the other parents and kids that were there, when I heard a loud BANG! I had a flinching response and with lightning speed turned to see where the danger was. It turns out that it was a couple kids who ran their wagon into a tree for fun. What I noticed even more than how crazy it was that I reacted that way, was that half the people at the park casually glanced over at the kids and the other half didn't even notice.
It's situations like that that make me realize I'm not the same as other people, at least in this regard. They probably say the same thing about me whenever they are confronted with their own issue.
…
This is one of the reasons I feel a lot of resentment towards people who get angry easily or who express themselves very aggressively. Because my brain believes that something horrible is going to happen simply because these people are allowing their anger to surface. And if their anger surfaces then they won't have much control over it (because my belief system tells me that anger is volatile, like a volcano that could burst at any moment) and then someone's gonna get hurt. So I feel they are being irresponsible by not keeping a lid on their anger.
I can't help but feel that way.
The only times I note that I'm not as jumpy or anxious is when I feel my own anger closer to the surface. I'm not talking about violence or yelling or screaming or anything of that nature, just that it's there in a calm but assertive way.
This tells me that I need a lot more of that, a lot more of my anger integrated into my body to buffer my enormous anxiety, to allow me to function normally in a world where anger, when expressed in a healthy way, is okay.
– FOA
*** If you're going through something similar then I hope this helped. If you are, I invite you to share it with me and everybody else who visits here by typing it up and emailing it over. I'll post it on the blog which would benefit everyone; you for writing it up – which gets you in touch with your unconscious more and with this issue of yours specifically – and us for relating with it and perhaps seeing our own issue from a different angle.
...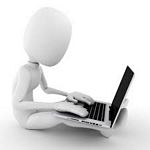 SUBMIT A POST!
To submit a post, click here. Post your experience with your fear of anger (FOA). The best way to help yourself and others get over your FOA is to share and connect in as many ways as you can.